Om Shira & The Exile Orchestra
In this EPK you find compact information about our project incl. download links to press pix and technical rider.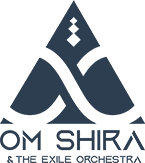 Heartfelt Music with a Deep Message of Connection & Healing
Om Shira & The Exile Orchestra is the base of an open collective of musicians, dancers, visual artists, photographers and designers in Cologne/Germany.
Everything we do, we do because we believe, that our times need connection and healing. We do that by bringing together different spirits and backgrounds into our sounds and stories. Music is our vehicle to reach our audience's hearts and souls and that creates beautiful, moving songs and tracks.
The outcome is our heartfelt music and performances! Are you ready for the experience?

Pioneers of "Hi-Tekk-Global-Funk" with a deep message of connection & healing

Bringing together mindfulness and celebrating life through rhythms, dance & movement
Freeak:Om Shira´s Futuristic Selfmade Audiovisual Looping Instrument

A unqiue instrument, that once seen in action you´ll never forget! "You got a thing there, Omid!" Dave Liebman after an mutual performance.
Modular Performance From Solo, Trio Up to Full Team of 10 Artists Include Dancers and Vjs.

Depending on the stagesize and budget we are able to provide different sizes of perfromances. Let´s talk if you have questions.
3 Albums in Last 6 Years and Further Eps and Remixes

"What comes from heart touches hearts!" is that saying in old Persia. Our albums take you on trips into the most lovely place you can imagine: Your soul!
Shows All Around Europe From Barcelona to Dubrovnic

We are delighted to be in your location and city. Or to come again if we have been already there.